Together with the Ministry of Gender Equality and Family Promotion (MIGEPROF) and Rubavu District, Caritas Rwanda through its Igire-Gimbuka program conducted the campaign against gender-based violence with a focus on teenage pregnancy prevention in schools. It was held from 15th to 16th November 2023, in Rubavu District schools.
This campaign was carried out in the GS Rubavu II and GS Shwemu from Rugerero sector (on 15th November 2023) and GS Rambo from the Nyamyumba sector (16th November 2023).
The message was delivered through songs, dramas, and acrobatics demonstrations, which focused on calling on girls to avoid peer pressure that can cause them to adopt bad habits, and talk to parents when they see changes in their bodies and/or when they are sexually abused. They were also told that the sexually abused child should be immediately taken to the nearest Isange One Stop center to receive first aid and for evidence conservation.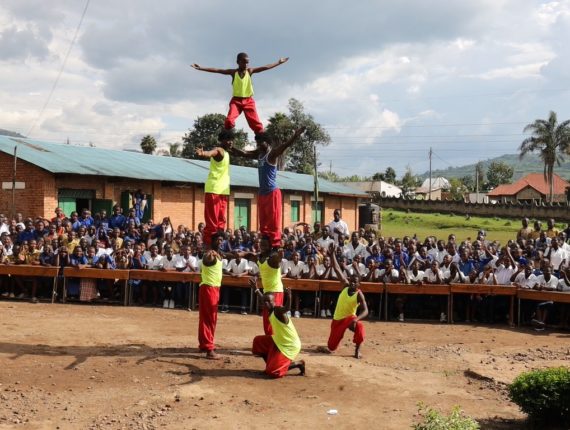 After the theatrical performances by the Vision Jeunesse Nouvelle club, the students were asked about teen pregnancy prevention at school, and also had time to ask the presenters questions to gain a better understanding.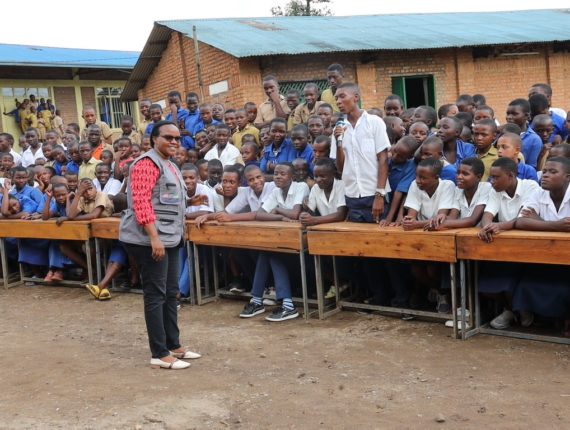 Speaking at the campaign in various schools, Ms. Aline Umutoni, Director General of Family Promotion and Child Protection at MIGEPROF, encouraged girls to take good measures to prevent sexual violence against them, which can lead them to become parents while still children, and ruin their future.
As part of the campaign, the brightest students in the 2022-2023 school year (5 girls and 5 boys per school) were rewarded with notebooks, registers and pens. The girls also received sanitary towels for use during their periods.
The figures provided by the Ministry of Gender and Family Promotion, as observed in the Rwanda Demographic and Health Survey 2019-2020 published in March 2022[1], show that teenage pregnancy is at 5.1% among women aged 15-19 countrywide and 4.1% Western province (Rubavu: 5.5%, Karongi: 0.5%, Rutsiro: 2.1% and Nyamasheke: 2.2%).
This campaign was conducted in preparation for the 16 days against Gender-Based Violence, which is scheduled to begin on 25th November and end on 10th December 2023. The national theme for this year is: "#Unite! INVEST to Prevent GBV".