On 30th May 2023, the personnel in charge of Socio-Charitable activities from Diocesan Caritas and Caritas Rwanda met at Centre d'Accueil Bonne Esperance-Kigali, shared experiences and reflected together on ways to improve community animation about the Caritas spirit.
During this meeting, participants exchanged information on how they carry out charitable actions and conduct animation activities in their dioceses, via schools and the Catholic Church media, namely Radio Maria Rwanda, Kinyamateka and Pacis TV.
In the diocesan Caritas, there are Caritas representatives in the basic ecclesial communities and parishes who have been trained in Caritas animation so that they can carry this mission. According to the responsible of the social charitable activities that participated in the meeting, during the animation, they explain to people that Caritas is not at all a non-governmental organization as many people think, but the charity actions done by one person or a person in partnership with another to help another person in need.
In his opening remarks at this meeting, Father Oscar Kagimbura, the Secretary General of Caritas Rwanda, reminded that Caritas is the heart of the Church, because the meaning of the word Caritas is "Love". "If there was no love in what the Church does, it would be a waste of time. This is why the Church takes Caritas to heart", he said.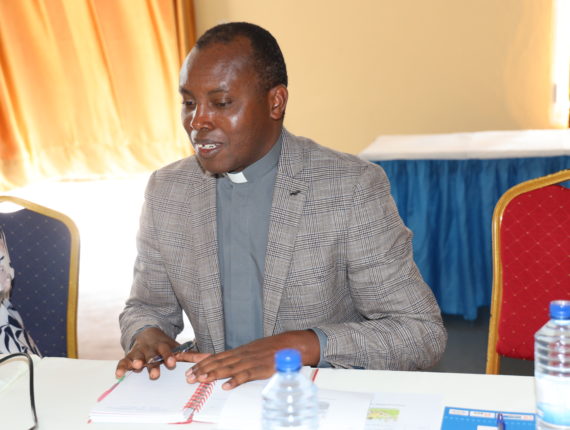 Father Oscar added that when the funds are unavailable, people think that there is no more Caritas, which is not the case. On the contrary, all charitable actions done by Christians to testify love to their neighbors, individually or collectively, is what Caritas means. He encouraged the participants to accomplish this noble mission that has been entrusted to them with zeal.
Among the points discussed by the participants during the meeting, there is the action of conducting the Caritas animation among school leaders to encourage them to also strengthen their Caritas animation in their schools and to approach the priests in charge of Caritas in the Dioceses and Bishops, to encourage priests to make Caritas (as love) known, to explain what it is (to give love to people).
The personnel in charge of socio-charitable activities in the diocesan Caritas and Caritas Rwanda agreed to continue to exchange ideas and share experiences regularly in order to improve the quality of their work.