24 savings and credit groups supported by the Caritas Rwanda through the PAC project, which bring together the Kiziba refugees and the Kiziba camp host community members, shared Frw 24,035,975, on 5th April 2023. The sum was saved on a 10-month period. It includes Frw 17,050,900 of savings and Frw 6,985,078 of interest.
The members of these groups were selected because their families lived in extreme poverty, most of them belonging to the first and second categories of Ubudehe. They were selected in collaboration with the local authorities, the Ministry in charge of Emergency Management (MINEMA) and the High Commissioner for Refugees (UNHCR). Once selected, they received various trainings including How to Become more Resilient, Savings and Credit Methodology, Creating and Managing Income Generating Activities, Gender Equality and Equity, Training on Agriculture, and completing financial books.
After attending the trainings, they established the saving groups, where they learned to save and how to use small loans and gain profit through income-generating activities, pay after getting interest.
Mukahirwa Denise, a member of the Kiziba camp host community said: "They trained us and encouraged us to form savings groups. In the beginning, I was wondering where I will find the money to save. We started by saving Frw 500 per week and little by little we reached Frw 2500".
Denise added that the Caritas Rwanda's PAC project of granted them with a financial support of Frw 800,000 which they received in two installlments. For the first round (400,000 Frw), she bought 5 goats and 1 pig which gave birth to 6 piglets. He sold each for 20,000 Frw. Since then, she started her rearing business, and she never ran out of money to save as she said.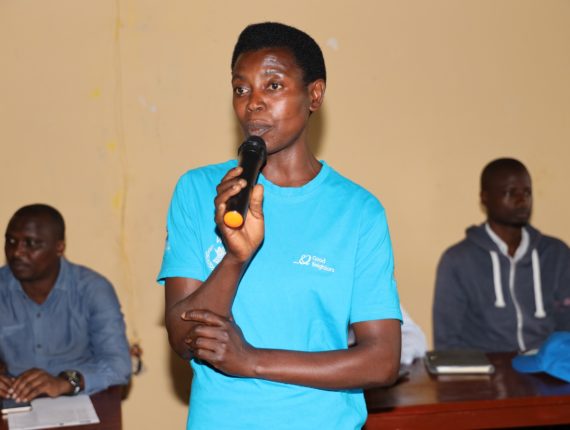 For the second installment, she renovated her 3 bedrooms house using Frw 500,000. She has borrowed Frw 100,000 from Sacco as the renovation required more money than what she was going to receive.
Another beneficiary named Kubwimana Cansilda, a refugee from Nyabiheke camp, says Caritas Rwanda brought them out of isolation through the PAC project. In her testimony, during the savings share-out, she said that to the financial support from PAC (Frw 800,000), she added Frw 600,000 and started a shop of clothes outside the camp. For the moment, she has saved Frw 4,500,000 on her bank account as she says.
In their speeches, the various guests during the ceremony thanked Caritas Rwanda for its activities in favor of the most vulnerable and encouraged the beneficiaries to jealously keep the good practices they have acquired, namely the saving culture in saving groups and the use their small loans.
Among the 8 groups that outperformed, the 2 are from the Kiziba camp, while 6 are from the host community. Each of them saved more than 1 million of Frw. Two savings groups from the host community shared more than Frw 2 million.