74 Field Agents from the Burera, Rulindo and Nyabihu districts identified and trained by the USAID-funded Gikuriro Kuri Bose Program (implemented by Caritas Rwanda) were certified as Private Service Providers (PSP) from 12th to 14th September 2023. The skills acquired will enable them to continue extending the economic strengthening services by creating, coaching, and mentoring saving groups in the community.
Savings and Internal Lending Communities (SILCs) are a type of community savings group that the GKB program has adopted to strengthen the livelihoods of the people it serves. To mentor SILCs, the Gikuriro Kuri Bose program recruited and trained community-based field agents, whose responsibilities are to promote SILC activities, mentor SILC members, supervise SILCs, and prepare quarterly reports on the groups' performance over a given period, usually one year corresponding to a savings cycle for the groups they mentor.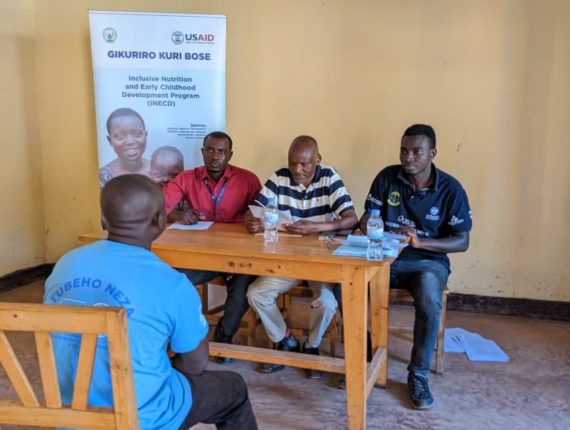 To continually build the capacity of field agents, the GKB program holds a monthly review meeting. This meeting shares important information on the economic opportunities, resources, and support available to the community to resolve issues and challenges. To ensure accountability, towards the end of the first year, field agents undergo an assessment of their performance through an individual oral examination by program staff, complemented by an evaluation by the SILC group members they have coached through an organized group discussion.
The process enables field agents who have passed the assessment to become Private Service Providers (PSPs) with the capacity to establish private savings groups on their own, and established private savings groups are required to pay a service fee if they are satisfied with the support provided by PSPs (Private Service Providers).
The certification events of the 74 PSP in the three districts involved the GKB staff and leadership, districts' officials as well as local leaders.